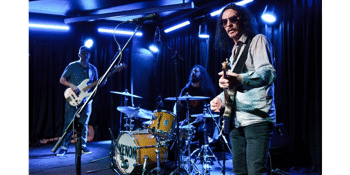 The Fyrefly
PHIL PARA BAND with SAFARI MOTEL
Safari Motel
The Fyrefly (St Kilda, VIC)
Saturday, 22 February 2020 8:00 pm
St Kilda's own guitar legend Phil Para is back for a band show with all of the favourite material from Hendrix to Clapton, Stevie Ray Vaughen to Santana and some originals thrown in for good measure.
Safari Motel will open the evening as Nicole Nehemia delivers a dynamic performance backed by her rhythm section Jason Nehill (bass) Rob Brens (drums), and guitarist Mark Evans. Nicole has always demonstrated mastery over funk, gospel, R&B and soul and all her performances exhibit her versatility across the spectrum. Nicole brings heart, soul and passion to all she does.
Under 18s must be accompanied by a responsible adult
For Dinner reservations upstairs or in the Fyrefly please email heatherpara@optusnet.com.au
Doors open/ Dinner: 8 PM
The show starts: 8:30 PM
THE FYREFLY
The Fyrefly is St Kilda's superb new dining, music and entertainment room located just down the stairs at the Newmarket Hotel. Creature comforts meet sophisticated glamour, with outstanding facilities for the artists to play a huge variety of music styles including jazz, soul, funk, RnB, and even comedy.
OUR DINING EXPERIENCE
Aside from entertainment, an evening at The Fyrefly entails fine dining, top-shelf hooch and classy cocktails. We offer two or three-course dinner & show packages, or you can take your pick from our A La Carte Menu. Our menu showcases only the best locally sourced ingredients guaranteed to delight your taste buds.
CONNECT WITH US
Follow us on
Facebook
.
Learn more about The Fyrefly on our
website
.