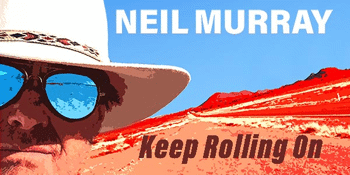 Neil Murray- Keep Rolling On
Sarah Carroll
Thornbury Theatre - Ballroom (Thornbury, VIC)
Friday, 14 May 2021 7:00 pm
Maverick song man Neil Murray will play an exclusive band show at the Thornbury theatre on Friday May 14th with Sarah Carroll as support.
Neil Murray is a founding member of the pioneering Warumpi Band, which penetrated mainstream Australia with the iconic anthems My Island Home and Blackfella Whitefella, he is now a respected singer/songwriter, with a string of remarkable albums, the most recent being Blood & Longing and Tjungu (all in one, joined together) with fellow Warumpi Band founder, Sammy Butcher.
His latest single, Keep Rolling On, celebrates the continuance of First Nations people and their culture in Australia and is an apt title for the resumption of his touring programme after being interrupted by the Covid pandemic.
His accolades include the 2017 Port Fairy Folk Festival Artist of the year, the 1995 APRA song of the year award for My Island Home. The latter plus Jailanguru Pakarnu ( Out from Jail- a 1983 co-write with Sammy Butcher in the Luritja language) have been selected into the National Film and Television Sound Archive's Sounds of Australia Series.
Artists such as Mary Black, Jimmy Little, Missy Higgins, Powderfinger, Liz Stringer and Emma Donavan have recorded his songs. Always engaging live, Neil Murray's work has contributed substantially to Australia's contemporary music heritage.
The Thornbury theatre show is his only appearance in Melbourne this year as he embarks on a tour into the north and west of the continent. Don't miss one of Australia's finest singer songwriters in concert.
Together Sarah Carroll and Shannon Bourne perform with a profound understanding of great song craft and virtuosic musicianship. Sarah's songs chime with sincerity and come straight from her big, brave heart; Shannon Bourne is Australia's foremost free-thinking guitarist.