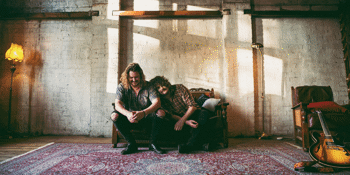 Lonely Lands Agency & Lemon Tree Music
Pierce Brothers (Late Session)
Westernport Hotel - San Remo (San Remo, VIC)
Saturday, 22 May 2021 10:30 PM
Pierce Brothers have just dropped their new single Brother, a crescendo-building indie folk anthem, out today, February 12. The final track to be released before they drop their new album, Brother focuses on being away from family, a theme especially prescient now when so many family and friends are being kept apart as we head into the second year of COVID-19
[Listen: BROTHER]
. Brother is accompanied by a light-hearted performance-based music video, as the band is constantly interrupted by the aforementioned brother brilliantly spliced with sweet, nostalgic footage from their childhood
[Watch: BROTHER]
. The single is the last to be released from the Pierce Brothers' highly anticipated sophomore album, Into The Great Unknown which debuts on March 5, 2021. They have also today announced the first leg of their national regional tour, kicking off with their Victorian show dates through March, April and May, featuring shows at The Espy on April 24 and The Corner Hotel on April 30, their first headline shows in Melbourne in over twelve months.
Written and performed for years before they finally put it down in the studio, Brother displays the anthemic build and crescendo for which Pierce Brothers have become known during their live performances. Opening with a quiet, reverb heavy and overdriven acoustic guitar, the track soon delves through rich harmonies, as drums and percussion are slowly introduced throughout the hook-laden chorus. The tune then kicks it into the next gear with the drop of the electric guitar solo before jumping up the octave and galloping to the final verse and chorus. Produced by Jan Skubizeski (John Butler, The Cat Empire), mixed by Phil Threfall (Illy, Ed Sheeran), and mastered by Joe Carra at Crystal Mastering (The Tesky Brothers, The Cat Empire), Brother is a slow burn anthem that leads to the kind of massive payoff that the Pierce Brothers have dedicated their careers to performing, and will have fans of Lumineers and Mumford and Sons jumping and singing by the final chorus.
Filmed by Dara Munnis (Tash Sultana, Teskey Brothers) and directed by Patrick Pierce himself, the music video for Brother sees a delightfully playful take on sibling rivalry, cut up with old home footage of the brothers as children, in a song that seeks to emphasise the importance of family. "We wanted to juxtapose the earnestness of the song with a bit of a piss-take," explains Pat, "we went in there with the intention of playing the whole thing straight, but then when Justin (our older brother) said he could drop in, we thought it would just be way funnier if we tried to do an honest-to-God straight performance, and he just walks through and messes it up for us. We couldn't stop laughing at the thought of it so we figured, why not?? "
Brother is the fourth track to be released from Pierce Brothers much anticipated sophomore album Into The Great Unknown, set for release March 5. Recorded at Jan Skubizeski's Red Moon Studios in Gisborne between the two Victorian lockdowns in 2020, the new album explores previously uncharted territory for the twins. "With strings arrangements, female backing vocals, and larger performances than we've ever done in the studio, this album is striving to be something grander than what has come before," says Jack, "the lack of endless touring paved the way for a deeply thought-out experience."
Along with their new single, the brothers have released a run of Victorian regional dates to coincide with the release of the new album. With borders opening, expect new shows added to the already stacked Victorian tour run. "In 2021 we're planning on an entire regional Australia run!" Pat tells us, "but the problem is that if we announce tickets too far in advance, there's risk of border closures between the announce and the date of the gig. We want to avoid all postponing/cancellations of shows so this year it's announce and GO!"
BROTHER is out February 12 via DITTO
INTO THE GREAT UNKNOWN is out March 5 via DITTO
Pre-order INTO THE GREAT UNKNOWN here
https://ffm.to/pbitgu
Purchase tickets to INTO THE GREAT UNKNOWN TOUR
https://www.piercebrothers.com.au/tour-dates
For advance album streams please hit up
emily@onthemappr.com