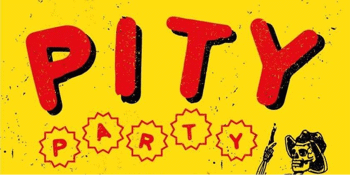 Select Music, Farmer & The Owl, EVP Recordings, Hearts MGMT, Little MGMT, Young Henry's, & Deathproof present
Totally Unicorn & Pagan – Pity Party
with ARSE, Blind Girls, Tanned Christ & NoLA (JPN)
Crowbar Sydney (Leichhardt, NSW)
Saturday, 4 May 2019 6:00 PM
Totally Unicorn & Pagan present Pity Party!

The people have been denied far too long – Totally Unicorn ditches the comfort of Sydney's Inner West to pay tribute to their sophomore album Sorry. The band is going on holiday and the Sorry Album Tour will be vacationing at a town near you.

Along for the ride is fellow Sydney-siders ARSE. Elbowing their way onto the scene with the release of 2017's Primitive Species – seven songs soaked in blue collar colloquialism and nihilist humor – the noisy punk three-piece are a perfect match. It's music that's not afraid to get its hands dirty, nor to offer blunt social commentary at high volumes.

Refusing to subscribe to anything but its own autonomy, Totally Unicorn's singles 'Grub' and 'I'll Be Fine Now' are only the preamble to the band's forthcoming album Sorry. Recorded in the heart of Adelaide with Ghostnote Studios head engineer James Balderston and musician/ producer Jonathan Boulet, the band's follow up to 2016's Dream Life is the band's most ambitious yet. It's imperative that it be witnessed in its most ideal setting – live, loud and loose.

Known for their frantic, booze-soaked and unpredictable live show, Totally Unicorn hit the road this April, armed with heaps of fresh number one hits. In tow for selected shows only is Japanese sludge band NoLA, along with a slew of TU's current favourite local supports.

In the wake of their wildly successful tour of the UK and Europe and after commanding the masses to stand up and take notice at this year's Unify Gathering, Pagan are thrilled to announce their Evil Eye Tour. A procession that will see the band carry their cross to major cities and regional towns throughout Australia.

The Evil Eye tour will see Pagan vehemently spit out selections from their critically acclaimed debut album, Black Wash. Pagan promise to baptise all who come to bare witness to their truly explosive and utterly visceral rock and roll ritual in volume and sweat.

Pagan have also promised a second instalment of the Holy Communion. This party-cum-festival will be curated by the band to showcase a diverse array of their favourite local music. The full lineup and further details to be unveiled as soon as the stars align.

Nikki, Matthew, Xavier and Danny are all beyond excited to tell you all the stories they brought back from across the seven seas, and vow that Pagan's homecoming dance is a dance you do not want to miss!