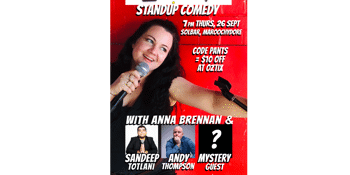 Solbar & The Playhouse
LOLbar: Pants Touching
Solbar (Maroochydore, QLD)
Thursday, 26 September 2019 7:00 PM
Fresh from Bris Funny Fest Anna Brennan is bringing a mini version of her show, Pants Touching, to Solbar this September. Anna has kissed a lot of commitment phobic toads to get where she is. Let her regale you with dating tales messed up enough to rival the original fairy tales (seriously, those things were scary; Sleeping Beauty was essentially a Me Too story). Anna performed a version of this show last year too and Bris Funny Fest organiser Adam O'Sullivan described it as "an insightful, hilarious and yes, sometimes a bit dirty, look into the world of modern female dating. Think Sex and the City on the Sunshine Coast". Kate Rudge, the unofficial Queen of the Brissy comedy scene, said the show is "Unapologetic and honest, Anna is clearly having a load of fun and it's infectious."

Anna is joined by comedy powerhouse Sandeep Totlani, giggle inducing songstress Emi Grace, Toowoomba's funny man Nick Carr, and MC LOL-king Ethan Simiana.

Use code ' Pants' for $10 off!