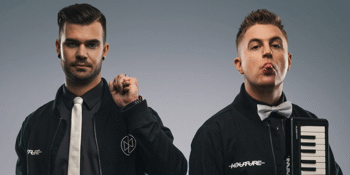 Eight Oh Eight Presents
Mashd N Kutcher - Under 18
Plus Special Guests
Lonnies Niteclub (Launceston, TAS)
Wednesday, 9 October 2019 6:00 pm
Mashd N Kutcher are coming back to Tasmania for one night only for Launceston Show Day Eve! and its going to be HUGE!

We are upping the anti on this one with a MASSIVE sound and light show including CO2 and Confetti Canons! Launceston hasn't seen anything like this!

UNDERAGE
If you are 12 to 17 years old then you actually have something to do this Show Day Eve! In an actual nightclub with a huge dance act! As we are throwing an underage show starting at 6pm and finishing at 9pm.

Parents; book that restaurant you have always wanted to go too, take the child lock off Netflix and order in... your chance for the best value "kid sitting" is here!

- All bags, backpacks and handbags will be searched upon entry, if you refuse you will not be admitted.
- All bags will need to be put into the cloak room at a cost of $2 per item and will not be available till the end of the show.
- NO PASS OUTS, once you leave, you can't re-enter.
- NO INTOXICATION; If you're showing any signs, you will not admitted and/or during the show you will be asked to leave.
- CIGARETTE FREE. If you're seen before the show, you will not admitted and/or during the show you will be asked to leave

The event starts at 6PM and concludes at 9PM sharp. We ask parents to be mindful when dropping and collection their children.

Any children attending with medical needs, please contact Eight Oh Eight or the venue prior to the show. Strobe lighting and Atmospheric Effects (i.e. Haze Machines) will be used.