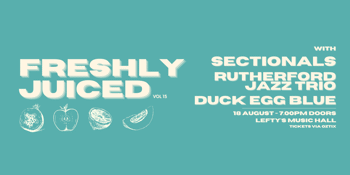 Freshly Juiced Vol. 15 w/ Sectionals, Rutherford Jazz Trio & Duck Egg Blue
Lefty's Music Hall (Brisbane, QLD)
Thursday, 18 August 2022 7:00 pm
Delivered monthly, we bring you Freshly Juiced. A lineup of the freshest, and tastiest artists Brisbane has to offer. Come get your dose of Vitamin C.

August's Squeezes
SECTIONALS
Formed in a spacious garage in a humble inner-city suburb of Brisbane, Sectionals are a four piece outfit that blend rambunctious rock symphonies with sensual pop undertones. The band's catchy melodies and infectious harmonies are sure to create an ambience that will reverberate in your bones.


RUTHERFORD JAZZ TRIO
Rutherford Jazz Trio is a hard funk band from Brisbane offering an eclectic fusion of genres ranging from funk to punk, passing through reggae and lounge inclusive. Overflowing with musicianship and style, a night with RJT with inevitably leave gig-goers in a state of fathomless groove. They have unimaginatively yet accurately been described as one of Brisbane's premier party bands, so come on down, they'll let you know... If you know what we mean…

DUCK EGG BLUE
Duck Egg Blue is not an act to go unnoticed in the Brisbane music scene. Blending alternative and indie rock to create something unique and
hard hitting, this is a light shade of blue worth checking out

The 5 piece band have released their debut single 'Pyjamas' and are ready to release much more. Playing all across Brisbane regularly, the band's live show is one worth checking out.