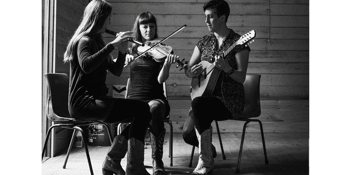 Palais-Hepburn
POSTPONED - Honeyfields Hepburn Album Launch
Fiona Ross
Palais - Hepburn (Hepburn Springs, VIC)
Saturday, 13 June 2020 7:00 PM
🔸Saturday, June 13th. 2020.🔸Doors 7:00pm. 🔸Shows: 8.30pm - Fiona Ross, 9.30 - Honeyfields🔸Folk 🔸GA: $25+BF. 🔸Concession: $20
🔸Dinner and Show: $80+BF Includes guaranteed seating. + 3 course meal and a glass of wine.
Fiona Ross
An esteemed tradition bearer in her native Scotland, Fiona's delivery of traditional songs and poetry is imbued with believability. Fiona tours regularly in Australia and Overseas, and delivers a world-class performance. Her recent nomination as 'Scots Singer of the Year' in Scots Trad Music Awards is well deserved recognition.

Honeyfields
Fortune's Wheel is the long-awaited new release from all-female trio Honeyfields. After a 16 year hiatus from recording, and a name change (the trio were formerly known as The Beenies), Honeyfields are delighted to share this new work with the world. The album is a collection of traditional and self-penned songs from a range of folk genres and features the sublime three-part harmonies and multi-instrumental talent of Cat Moser, Corinn Strating, and Nicola Strating.