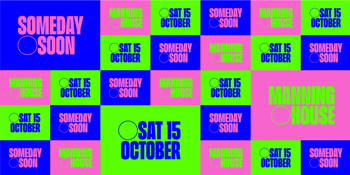 University of Sydney Union (USU) Present
Someday Soon
HERMITUDE (DJ SET) * HOLY HOLY * LASTLINGS * METHYL ETHEL * MIDDLE KIDS * RUBY FIELDS * WINSTON SURFSHIRT (DJ SET)  + MANY MORE!
Manning House (University Of Sydney, NSW)
Saturday, 15 October 2022 3:00 pm
For the first time ever, Someday Soon will be making its music festival debut at Manning House on Saturday 15 October.
Brought to you University of Sydney Union (USU) and supported by University of Sydney, Someday Soon is all about bringing live music back after going a little too long without festivals, concerts and gigs here in Sydney. Located at the iconic University of Sydney campus, there'll be 3 stages stacked with over 20 of the hottest local artists, multi-level bars, food trucks and more!
THE LINEUP
[Listed tiered alphabetically]
HERMITUDE (DJ SET) • HOLY HOLY
LASTLINGS • METHYL ETHEL
MIDDLE KIDS • RUBY FIELDS
WINSTON SURFSHIRT (DJ SET)
HAIKU HANDS • THE LAZY EYES • MEMPHIS LK • MERCI, MERCY •
TASMAN KEITH • TOUCH SENSITIVE • ŪLA
AYEBATONYE • BIG YAWN • CAITLIN MEDCALF • CINTA • GLASS BEAMS
JOSHUA AMOUR • ROY BLUES • THE REGIME • TSEBA
+ MORE TBA
Pre-sale
USU Rewards Member benefits:
includes access to a VIP zone & bar, free massages, charging stations, souvenir cup, stubbie holder and wristband.
Keep your eyes on our website
and the Someday Soon Instagram page for more details. *Someday Soon is strictly an 18+ event. USU practices the responsible service of alcohol and encourages the responsible consumption of alcohol. Physical or digital ID must be presented at entry (driver's license/passport / proof of age card).
Someday Soon is held on the land of the Gadigal people of the Eora Nation. We recognise this land was never terra nullius — the land belonging to these peoples was never ceded, given up, bought or sold. We pay our respects to Aboriginal Elders past, present and emerging, and we extend this acknowledgement to any other Aboriginal and Torres Strait Islander people.