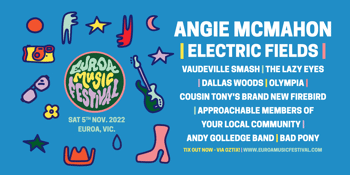 Euroa Music Festival
Euroa Music Festival 2022
Euroa Memorial Oval (Euroa, VIC)
Saturday, 5 November 2022 11:30 am
Well the wait is over folks! Here it is the lineup for our second Euroa Music Festival 2022.

Showcasing some of Australia's most dynamic artists on one stage; each currently making their own unique contributions to our musical landscape, Euroa Music Festival 2022 promises to be an amazing day!

Alongside all the delights a charming heritage town has to offer, we're pleased to be dropping the lineup as follows.

Drum roll please...

ANGIE MCMAHON
ELECTRIC FIELDS
VAUDEVILLE SMASH
THE LAZY EYES
OLYMPIA
DALLAS WOODS
COUSIN TONY'S BRAND NEW FIREBIRD
APPROACHABLE MEMBERS OF YOUR LOCAL COMMUNITY
ANDY GOLLEDGE BAND
BAD PONY
plus more to be announced..

Food vans, craft beer & local wines.

WHERE TO STAY
We are very lucky to have secured the Euroa Showgrounds for tent-only camping. These tickets are offered via Oztix once you have selected the number of your festival tickets.
Euroa also has an amazing caravan park, three motels plus plenty of privately owned properties available to rent via AIRBNB etc. Head to the Euroa Music Festival website for more info and to book.

BUS TRANSFERS
Can be purchased when buying your tickets. We'll be providing bus transfers from Shepparton, Seymour, Nagambie, Avenel, Longwood, Wangarrata, Benalla and Violet Town.