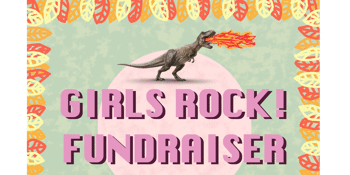 Girls Rock! Fundraiser
Gang Gang Cafe (Downer, ACT)
Sunday, 16 May 2021 6:00 pm
We're holding an all-ages fundraiser gig to raise money for Rock Camp this year and we're so excited to see all our friends and camper community for a beautiful arvo of music!
Starting out the afternoon will be Finn Burton. A recent addition to Canberra's music scene and a sweet new voice to look out for, Finn writes folk pop songs that will tug on your heartstrings and get your heads bopping at the same time.
Next up on the arvo we'll have Flik gracing our eardrums. Flik is a past vocal instructor at camp but we promise we are not biased when we say her beautiful lyrics and melodies will leave you speechless and in awe.
And to finish up we'll have a solo set by past intern and camper Heather Dunks from the exciting, dreamy and super fun band Sesame Girl.
Sunday May 16, 4pm at Gang Gang Cafe and Bar. All Ages. $8-$15.
Girls Rock! Canberra is a community arts organisation working to increase the participation of young people of marginalised gender identities in music. We create safe and inclusive spaces for young people to learn, create and collaborate through promoting inclusivity, diversity, respect and accessibility. Rock Camp is a week-long school holiday program run in the September school holidays. During the week, campers form bands and collaborate to write original songs together, learn an instrument, watch live music performances and attend creative workshops led by professional musicians.
The event is wheelchair accessible, and there is vegan + gluten free food available. Girls Rock! Canberra values creating safer spaces, and we have zero tolerance for inappropriate or discriminatory behaviour, and anyone behaving as such is not welcome.
We acknowledge that this event takes place on Ngunnawal land and we pay our respects to elders past, present and emerging. Sovereignty was never ceded.