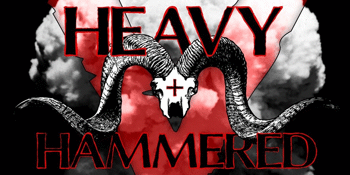 PBS 107.7FM and Young Henrys present
Heavy & Hammered V
with 29 Bones, Baby 8, Barbarion, El Colosso, Frankenbok, Fuck The Fitzroy Doom Scene, Full Tone Generator, Grindhouse, Littlefoot, Neck Grip, Never, Palace of the King, Peeping Tom, Sithlord, Suldusk ,The Blacktides, The Fuckups ,The Hybernators, The Neptune Power Federation (NSW) ,TTTDC, Warped
The Tote (Collingwood, VIC)
Saturday, 5 October 2019 2:00 PM
Raise your devil horns to the sky and prepare thyself for the unholiest day of the year with PBS 106.7FM's Heavy and Hammered back for its fifth and FINAL year! Once again we've handed the unholy reigns over to PBS's Hard and Heavy shows to summon their favourite bands for an all-day, all-night axe smashing riff fest at The Tote Hotel on Saturday October 5.

This year's line-up dives back into the past four years of devestatingly good music and brings back some crowd favourites including Fuck The Fitzroy Doom Scene, Grindhouse and El Colosso.

Joining us for the first time is Australia's premium metal slash viking band Barbariön, heavy AF metalheads Frankenbok, and all the way from NSW - Australian psychedelic rock and roll occultists, The Neptune Power Federation, who will be launching their new album Memoirs of a Rat Queen on the night!

The full line-up in all its guitar riffin' glory:
29 Bones
Baby 8
Barbarion
El Colosso
Frankenbok
Fuck The Fitzroy Doom Scene
Full Tone Generator
Grindhouse
Littlefoot
Neck Grip
Never
Palace of the King
Peeping Tom
Sithlord
Suldusk
The Blacktides
The Fuckups
The Hybernators
The Neptune Power Federation (NSW)
TTTDC
Warped

Tickets available from The Tote Hotel website - $15+BF for PBS members, $20+BF for future members - that's less than a $1 per band! Members will need a discount link to access member prices, please email events@pbsfm.org.au.

Lovingly curated by PBS 106.7FM's Hard 'N' Heavy category: Burning Bitumen, Fang It!, Fret Net, Metal Genesis, Pojama People, Shock Treatment, Sunglasses After Dark, and Through the Collapse.

Proudly presented by PBS 106.7FM with support from Young Henrys and The Tote Hotel.