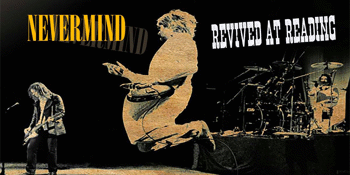 NEVERMIND: THE NIRVANA EXPERIENCE - 92 READING FESTIVAL REVIVAL
Prince Bandroom (St Kilda, VIC)
Friday, 30 August 2019 8:00 pm
NEVERMIND captures the raw energy and wall of sonic attack that made Nirvana so iconic during the 90s, and the 1992 UK Reading Festival held 30th August was their most exemplary show of all, ranked #1 in Kerrang Magazine's "100 Gigs That Shook The World" and voted as "Nirvana's #1 Greatest Moment" by fans in an NME poll.

NEVERMIND will be delivering the entire Reading Festival set in its authentic form, along with all the hits and rarities throughout the bands discography. incl. Bleach, Incesticide, Nevermind, and also what-would-become future classics from In Utero.

Opening up proceedings will be 90s rock / grunge tribute INTERSTATE 90 to prepare your eyes and ears for what will be a unique show full of special moments, loud noise, chanting choruses, and of course, a good show is never properly complete without mindless destruction of stage gear!

But that's not all! Stay connected with the Facebook event for the word on our upcoming giveaways, and how you could have the opportunity to get involved in the show!
https://www.facebook.com/events/387546668562333/

Come along in your best hospital gowns, as this show is not to be overlooked!