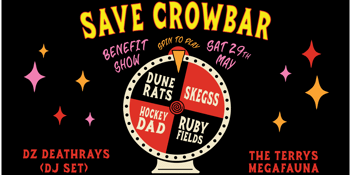 Dune Rats, Ratbag Records & Village Sounds present
Save Crowbar Benefit Show
Dune Rats, Skegss, Hockey Dad & Ruby Fields, DZ Deathrays, The Terrys & Megafauna
Crowbar Sydney (Leichhardt, NSW)
Saturday, 29 May 2021 6:00 pm
Long time friends and touring partners Dune Rats, Skegss, Hockey Dad & Ruby Fields, DZ Deathrays, The Terrys & Megafauna have joined forces to help one of their favourite venues stay open. Like so many music venues around the world Crowbar Sydney has been hit hard by Covid and the ongoing restrictions on live music. On the brink of having to close the doors, Crowbar owner / operators Tyla & Trad Nathan put together a Crowdfunder campaign to raise enough money to stay afloat. The best thing that Dunies & friends could do? Band together and play a huge show, get people into the venue and help reach the fundraising goal!

"We've known Trad and Tyla for over 10 years and what Crowbar has done for local bands and the music scene in Brisbane and Sydney is second to none. In the current climate of the Australian music industry we really need to support the venues that have supported us for so many years and keep them open so we always a stage to play on" - Danny / Dune Rats


"It's good to support such a sick venue and good people who support hundreds of bands every year! If venues like these aren't around then it's going to make a massive blow to the music ecosystem and will be super hard to recover "- BC / Dune Rats.


The night will kick off at 6pm with the bands set times being decided by the spinning of a chocolate wheel. No headliners, just punk and fun and funds to keep the music alive!