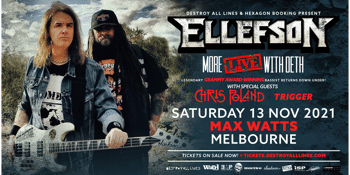 Destroy All Lines presents
CANCELLED - DAVID ELLEFSON More Live with Deth Australian Tour
with special guest CHRIS POLAND
Max Watt's Melbourne (Melbourne, VIC)
Saturday, 13 November 2021 7:30 pm
David Ellefson
, legendary co-founder and bassist of iconic 'Big 4' Thrash Metal titans Megadeth, will bring his eponymous solo band, including vocalist Thom Hazaert, to Australia in May, reuniting with Megadeth's classic Peace Sells era guitarist Chris Poland for a once in a lifetime thrash event!
Fresh off the boat from Megadeth's MEGACRUISE, where Ellefson and Hazaert performed a crushing set of tracks from their debut 2019 release Sleeping Giants, alongside Megadeth classics and deep cuts, featuring guest appearances from Megadeth's Kiko Loureiro and Dirk Verbeuren, dedicated to Dave Mustaine, absent from the cruise due to his throat cancer diagnosis. Now Ellefson's More Live With Deth tour comes to Australia, featuring full sets from Ellefson and Poland, with an epic finale any thrash fan will not want to miss!
Ellefson and Poland appeared together on Megadeth's debut, 1985's Killing Is My Business.. And Business Is Good and their landmark 1986 album, Peace Sells But Who's Buying, widely regarded as one of the most influential thrash albums of all time.
With a career spanning four decades, David Ellefson is a Grammy-Award winning musician and best-selling author, with one of the most recognisable and distinctive bass guitar sounds in Metal. The opening bass riff to Peace Sells was immortalised as the intro music to the long running MTV News, and is ranked #11 in the 40 Greatest Metal Songs Of All Time by VH1.
In 2019, Ellefson also released his second memoir MORE LIFE WITH DETH, co-written with Hazaert, recounting both the early days of Megadeth, and his journey since re-joining the band in 2010.
Chris Poland's unique lead playing on the first two Megadeth albums, undeniably contributed to their rise to the top of the thrash pile. He left the band in 1987 and returned for 2004's The System Has Failed.
After his departure from Megadeth, Poland went on to release his classic 1990 solo debut Return to Metalopolis, celebrating its 30 year anniversary in 2020 with a reissue from Ellefson's Combat Records, as well as Damn The Machine, Ohm (which would later include late former Megadeth drummer Nick Menza), and several other acts that perfectly showcased his distinct jazz-infused thrash/rock style, as well as performing on albums for Lamb of God, Tourniquet, and more.
In 2020, Poland was inducted into the Metal Hall of Fame, at a star-studded induction ceremony, which also included inductees Steve Vai, Joe Satriani, Prong, Don Dokken, Geoff Tate, and more, where he was inducted by Hazaert, and Vio-lence/former Machine Head guitarist Phil Demmel, who also joined him onstage for a blistering live performance.
In 2019 Poland reunited with Ellefson, making a guest appearance on Sleeping Giants, which also included contributions from Mark Tremonti (Alter Bridge, Creed), Eric AK (Flotsam and Jetsam), DMC, John Bush (Armored Saint, Ex-Anthrax), and more. Poland later joined Ellefson, Hazaert, and the "Sleeping Giants" band live in Fullerton, CA at The Slidebar, for a surprise guest appearance that set the internet on fire, with Mega-fans hungry for more! And from that moment, MORE LIVE WITH DETH was born.
Ellefson says of Poland: "It was great to reconnect with Chris, musically and personally, who is still, and always has been, one of the most innovative players in metal. Playing with him live again was amazing, and the fans really loved it. We're so excited to be able to do it again, and bring it to Australia!"
Grab your tickets now for the most exciting Thrash reunion of the year!
This is a Covid Safe event and there are a few things we need you to know before you arrive:
PLEASE DON'T COME if you feel sick, if you've been in contact with a person who has been diagnosed with coronavirus (Covid-19) or if you have travelled overseas or to a coronavirus hotspot in the last 14 days. Contact Oztix - we will refund your ticket.
BRING A MASK — if you are unable to socially distance, it will offer you protection.
A strict NO QR CODE, NO ENTRY policy applies at our venue. We use the Service Vic App QR code and you will have to show a Security Guard YOUR GREEN TICK at the door ​to enter the venue.
​Your TICKET WILL BE SCANNED at the Box Office and matched to the detail input at the time of purchasing your ticket. This data will be kept for 28 days to facilitate Track & Trace.
Download the App now for iPhone
Download the App now for Android
5. NO MOSHING and NO CROWD SURFING. Patrons who kick off will be removed from the venue. We're really sorry about that, but we're in a pandemic and we want to STAY OPEN.

Do your best to remain socially distanced and practice good hand hygiene. If you feel sick at the event, please report immediately to the Box Office so we can do a first aid assessment and get you home safely.