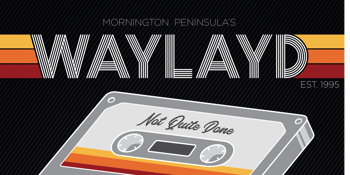 WAYLAYD
Filthy Habits & Johnny Bipolar
Grand Hotel, Mornington (Mornington, VIC)
Thursday, 26 September 2019 8:00 PM
Peninsula punk rock band WAYLAYD are playing their first run of shows in 18 years!!
Having already blown away Balnarring backyard festival Pretty Snazz in The Nazz earlier in the year, they're now gearing up to play The Grand in Mornington on Thursday September 26 (public holiday eve) alongside fellow resurgent Peninsula legends Filthy Habits, and Frankston upstarts Johnny Bipolar.
Waylayd were renowned for their brilliant high energy shows, establishing themselves on the popular 90's Peninsula circuit, playing venues and pubs from Frankston down to Flinders. It wasn't long before they were filling big Melbourne venues such as the Punters Club, POW, The Evelyn and The Espy, and within the blink of an eye they were holding court on the same bills with bands like Unwritten Law, Shihad, Violent Femmes, Magic Dirt, Bodyjar, Killing Heidi and 28 Days among numerous others, at a time when that particular punk rock scene was going bananas. All of those bands found themselves on labels, in the charts, selling out large venues and touring constantly. The scene was big, real big and Waylayd were right in the thick of it.
They scored themselves a victory in Triple M's Unsigned Find competition in the early 2000's and went on to play some big festivals such as Falls and Vans Warped, a stadium show at Rod Laver Arena and even found themselves on a Midnight Oil tribute album alongside their contemporaries. All of this was on the back of 2 Ep's, a single, and an amazing live show. In 2002 they packed it up and put it to bed, having accomplished more than most bands can dream of.
So, 18 years later, here we are, and Waylayd are back at it and raring to go. They've roped in best mates and fellow 90's Peninsula pub rockers Filthy Habits, who only a couple of months ago filled The Grand for what was a blistering rock 'n' roll show. Fans of Peninsula punk rock come down and get in early!!