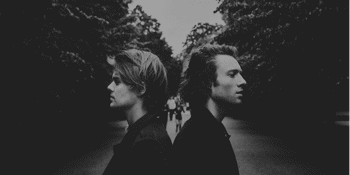 Georgia Fair - 'The World's Awake' Album Launch
with Daniel Lee Kendall + Little Green
Waywards (The Bank Hotel) (Newtown, NSW)
Friday, 13 March 2020 8:00 pm
The light was soft blue, you would be forgiven for thinking it was somewhere in England as the rain started to drizzle. Though it wasn't England, it was Australia somewhere in Sydney's North in the back yard of Benjamin Riley's family home. They were kicking or throwing a ball of some description, trying to prevent Monday morning coming sooner, because it meant they had to be back at school. Jordan Wilson would make the venture to the Riley home most weekends to play music with Ben and his brother.
Skip forward March 18, 2010. Georgia Fair's first time in Texas, green as the edamame beans that they didn't order. Complimentary from the fancy Japanese place that they charged to the new company card they had acquired. Ate them whole, skin and all, spat them out just the same. Fresh from recording what would be the first of two albums in the US. The first "All Through Winter" near the Blue Ridge Mountains, North Carolina with mentor & guru Bill Reynolds (Band of Horses). The second "Trapped Flame" in Los Angeles with pork pie Tedd Hut and musicians from the bands of the likes of PJ Harvey.
The outfits changed but the nucleus stayed the same. Great songs. Authenticity, travel & adventure. Incidentally they did find themselves in England. First in the town where Benjamin was born. Second in London where Jordan lost his shit a bit. Sharing a shoe box of a studio with a fake fire place that they transcended to keep the Georgia Fair flame burning.
Like so many of their musical heroes they traversed the Indian Ocean looking for new landscape and inspiration, what surmounted was some of their best writing to date. The effervescent Georgia Fair will be bringing the full live show back to Sydney for the first time in years, starting with "The World's Awake Album Launch' at Waywards on the 13th of March. With an arsenal of new material and support from Daniel Lee Kendall and Little Green, it's set to be a night to remember.