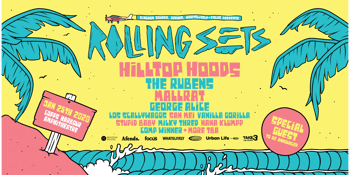 Kingdom Sounds, Afends, Whatslivley & Focus present
Rolling Sets 2020
with HILLTOP HOODS, THE RUBENS, MALLRAT, GEORGE ALICE and more
Coffs Harbour Amphitheatre (Coffs Harbour Jetty, NSW)
Saturday, 25 January 2020 1:00 PM
Call your crew, throw together your best festi-threads and wax your board - Coffs Harbour's newest beachside festival is just around the corner and the perfect excuse to kick off your end-of-summer long weekend road trip.
Held on Saturday 25 January 2020,
Rolling Sets
will boast a local line-up of Australia's most respected artists, along with an eclectic mix of homegrown foodies, peddlers, skaters, makers, musos and sponsors. Coffs Harbour Amphitheatre will play host to the event, leaving festival-goers dancing to their fav bands in front of peeling barrels and skate demos, all while indulging in the 280- degree views of Coffs Harbour's surrounding salt water delights.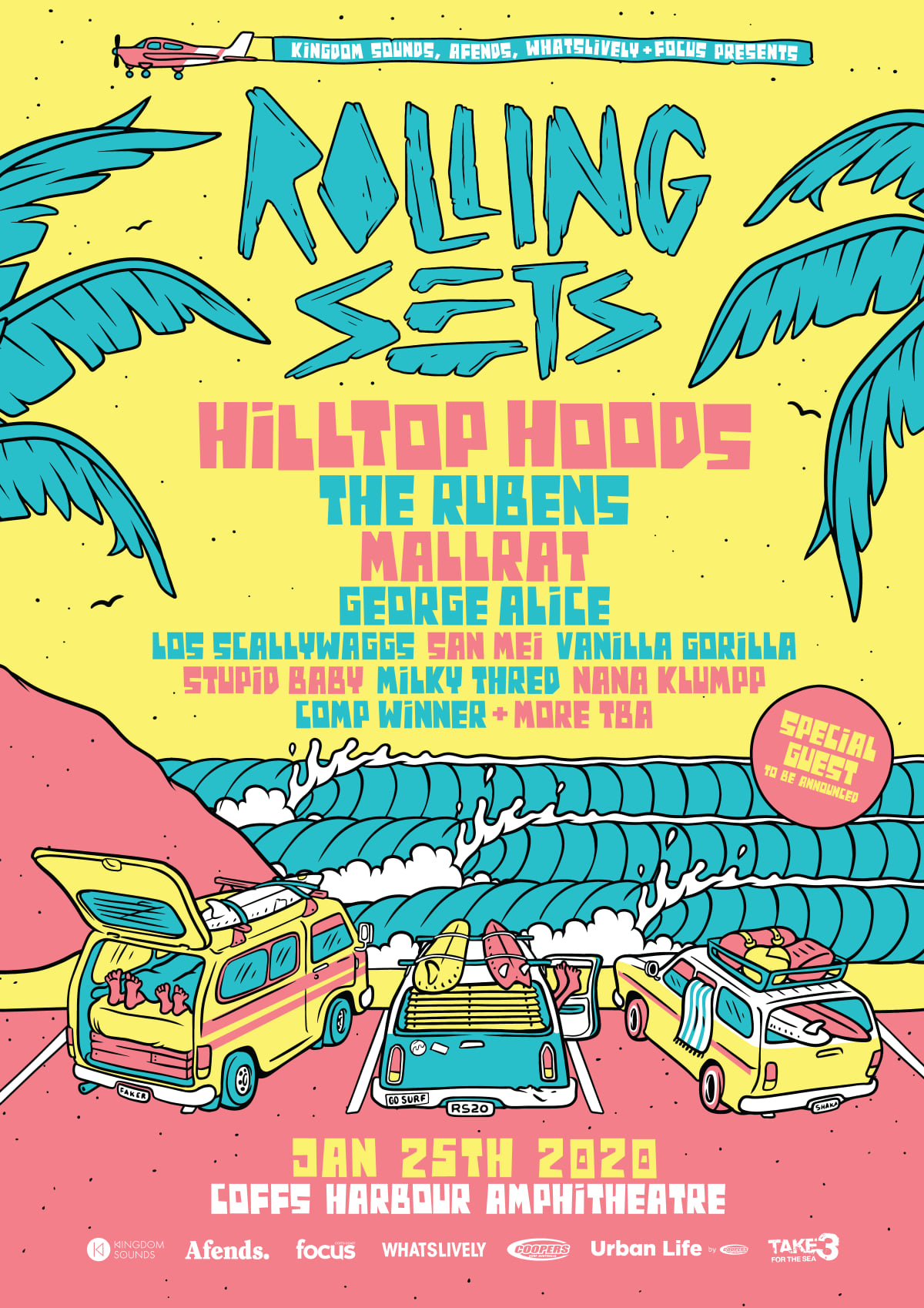 Australian Hip Hop royalty,
Hilltop Hoods
, are set to headline the inaugural Rolling Sets festival. With nine ARIAs under their belt since 2006 and over one million album sales thanks to illustrious works like their most recent number 1 album The Great Expanse. The trio have recently impressed massive crowds, having performed to over 80,000 fans across seven shows around the nation in the second leg of their "The Great Expanse" world tour - a tour that has since made history by becoming the largest tour of any Australian act in 2019.
Joining them will be the ever-popular and award-winning indie rock band from New South Wales,
The Rubens,
whose studio album in 2018, Lo La Ru, became their third to debut within the ARIA top 5. The band will pump out tunes soaked in copious amounts of soul, taking you on an unforgettable
journey across their many hits and crowd favourites such as "Never Ever", "Hoops" & new single "Falling asleep at the wheel".
Fans of great homegrown music and good vibes will also be able to revel in local artists including indie-pop sensation
Mallrat
, famed as one of Australia's most promising young songwriters and charming vocalists.
She joins the Rolling Sets line-up with 16-year-old triple j Unearthed winner,
George Alice
, who'll perform her captivating debut song "Circles". Also set to wow the stage are
Los Scallywaggs
,
Vanilla Gorilla
,
Stupid Baby
,
Milky Thred
and
Nana Klumpp
& many more
EVENT NAME: Rolling Sets Festival
DATE: Saturday 25th January 2020
AGE: Licensed All Ages (16+)
LOCATION: Coffs Harbour, NSW
FEATURING:
HILLTOP HOODS
THE RUBENS
MALLRAT
GEORGE ALICE
LOS SCALLYWAGS
VANILLA GORILLA
STUPID BABY
MILKY THRED & NANA KLUMPP
and more
www.rollingsets.com.au