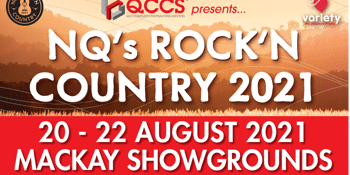 Yeehaa Events & Kix Country present
NQ's ROCK'N COUNTRY - 2021
with Lee Kernaghan & Graeme Connors
Mackay Showgrounds (Mackay, QLD)
Fri 20 - Sun 22 August 2021 12:00 pm
MACKAYS inaugural country music festival may have taken a detour in 2020, but the festival has been given the go ahead for 2021.
Due to the pandemic in 2020 the festival was postponed but event organiser Geoff Baguley is excited to announce that the festival is not only planned to go ahead in August but will be even bigger and better than planned first time around.
"NQ'S Rock'n Country will now be a massive three-day event, which we are so excited to announce to everyone. So, everyone lock it in for August 20-22, it will be a festival that you don't want to miss", said Mr Baguley from YeehaaEvents.
"We will be bringing even more talented artists to the show and spreading it over three days, giving more artists the chance to showcase their voices and encouraging more visitors to the region helping to boost the local economy.
With a new year also brings a new naming sponsor for the 2021 event. We are excited to be partnering with QCCS for the festival. Without the ongoing support from our sponsorswe would not be able to bring such amazing talent together," said Mr Baguley.
QCCS manager Craig Bogaarts stated that they are very proud to support Mackay's first three-day country music festival.
"With the outstanding mix of artists, and those behind the scenes bringing this event to life, it promises to be an event worth adding to your social calendar," said Mr Bogaarts.
The inaugural festival has also received incredible support from local businesses who are sponsoring the three-day event. These sponsors include Mackay Regional Council, DGH Engineering, Inspec Industries, Bullet Bikes and GB Industries who are all Gold sponsors of the event.
Along with Payne Print, Transit Tyres, Commercial Mine Recyclers, Linked Group, AE (Anything Environmental) Easyloc, Local Building Maintenance, Mickala Group, Moss on Wood, P. Comino & Sons, M&P Services, TFH, KixCountry Radio, Channel 7 Mackay and 4MK who are the events Bronze sponsors.
Mayor Greg Williamson said it was tremendous to see QCSS NQ's Rock'n Country festival back on the regional event calendar.
"Council is proud to be able to support this fantastic festival that will undoubtedly draw considerable out-of-town crowds," Mayor Williamson said.
"Mackay residents are proud of our local country music performers and our region, so it'll be a great opportunity to show off," he said.
"Council welcomes the extra exposure it will bring for our local talent and our region's tourism attractions.
"The flow-on benefits for an event like this are numerous, and local restaurants, accommodation, tourism and retail providers will definitely benefit from the boost."
Again, the event will be supporting Variety - the Children's Charity which supports kids and families who are facing challenges through sickness, disadvantage or living with a disability.
Variety – the Children's Charity helps kids to gain mobility, to get out and about in the community, to communicate, achieve independence and increase their self-esteem. They help those kids who miss out, allowing them to be able to join in.
The event will be raising funds through-out the duration of the festival as well as through ticket sales in Variety's Heart lottery were a grand prize of $10,000 is on offer.