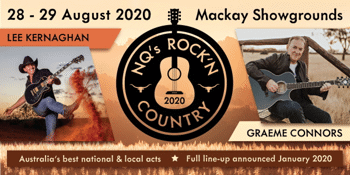 Yeehaa Events & Kix Country present
NQ's ROCK'N COUNTRY
with Lee Kernaghan & Graeme Connors
Mackay Showgrounds (Mackay, QLD)
Fri 28 - Sat 29 August 2020 12:00 pm
The boy from the bush is back.
MACKAY'S inaugural country music festival is coming in 2020 and will bring thirty-seven time Golden Guitar winner Lee Kernaghan to the stage.
NQ's ROCK'N COUNTRY will be Mackay's first two-day country music festival, attracting thousands from the region and increasing Mackay tourism with the aim to bring people from all over North Queensland.
The event will be held at the Mackay Showgrounds on August 28-29th 2020 with visitors able to camp at the grounds.
Local event organiser, Geoff Baguley said the decision to go ahead with the event was a no-brainer, Mackay and surrounding region residents love country music and to be able to bring a big Australian headliner like Lee Kernaghan to Mackay for a country music festival is an amazing opportunity.
Lee Kernaghan needs no introduction to Mackay with this being his second visit to Mackay in the past 12 months, however this time the atmosphere in which he will be performing will be completely different and will provide more people the chance to see Lee perform.
"There is just something about a country music festival outdoors, the party atmosphere and the solidarity of the attendees is incredible. The relationships and friendships that are formed during the weekend are unforgettable.
"Lee will be accompanied by 13 other artists including local musicians and up an-comers in the industry. We want to be able to give North Queenslanders the opportunity to hear some great country music and have a fun weekend without the excessive costs of having to travel south," said Mr Baguley.
The event will also be raising money for Variety, The Children's Charity. The Variety Bash leaves Winton the Monday after the festival and will be touring outback Queensland and finishing in the Barossa Valley, via the Birdsville Races.