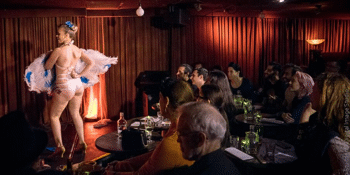 Red Right Hand Entertainment
Red Light Confidential - Anti Valentines Day Special Edition!
Low 302 (Surry Hills, NSW)
Friday, 14 February 2020 7:00 PM
Welcome to the 20's Red Light Lovers!

We are excited to be back and to kick things off we have a special Valentines Day Edition of Red Light Confidential!

Now, if you have been to a RLC you know we don't do anything by the book.. so we have it all covered whether you're in the mood for love or not, we guarantee you won't leave unsatisfied!

We have a stella line up of heartbreakers, featuring:
Ginger Foxx
Isla View
Ember Flame
Joshua James
Lady Heart
Hayworth Harlot
Onya Bones
Turquoise Delite
The DelIvish Derriere's
& Hedy Bell Nova

Music Set by
Irene Nicola

Hosted by Kelly Ann Doll

and more to be announced!
Secure your stage view seating for $15 (limited available) , or pre book your entry for $10 for standing room and bar seating or try your luck at the door!

Dinner and delicious cocktails available all night long , so be sure to get there early and lock in a table for the best view!

Doors at 6pm for dinner and show from 8.30pm

See you there lovers!