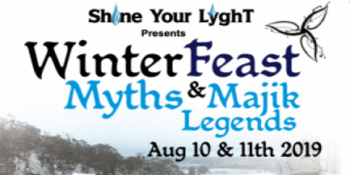 Shine Your Lyght presents
WinterFeast - Myths Majick and Legends
Kryal Castle (Leigh Creek, VIC)
Sat 10 - Sun 11 August 2019 6:00 PM
This August is your opportunity to step back in time to a worlde of myths, majik and legends at Kryal Castle. Come dressed as a wench, heathen, robin hood, princess, a god, a witch, a fairy or any character that you can conjour in your mind.. whether true to history or inspired by mystery this August WinterFeast - Myths Majik & Legends is set to inspire your imagination.

Over the Big 2 day weekend you will find everything from mystic readers, ancient crystals, gift ware and 2 days full of live theater sessions, live platform readings, and so much more..

Kryal Castle will have all their amazing facilities and productions running all weekend including the jousting, archery and more.