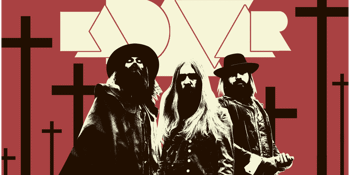 Beats Cartel, HEAVY Magazine and Dead Man's Fingers Present
POSTPONED - BIG WEDNESDAY - Kadavar (GER) Australian Tour -
with Deville (SWE), Palace of the King & more
The Basement - Canberra (Belconnen, ACT)
Wednesday, 1 April 2020 12:00 AM
POSTPONED SHOW STATEMENT
With heavy hearts we are forced to postpone the 2020
KADAVAR
tour of Australia and New Zealand. Borders are shut and with a two week quarantine the band would be unable to get on the road and get amongst it.
Statement from the band:
"Dear Australians and New Zealanders, it's now official that we won't be able to make our tour happen. We want to say sorry to everyone who was waiting to see us play and bought tickets to the shows. We will try to reschedule the dates as soon as possible.
We want to thank Christian and Beats Cartel and all promoters, venues and people involved for setting up the tour and we wish everyone the best for coping with the situation which is ahead of us. Stay tuned and be safe!"
We encourage ticket holders to retain their existing tickets as these dates will be honoured for rescheduled shows. The new dates will be worked through with the band, venues and management over the coming weeks.
- Beats Cartel
⚡ GERMAN FUZZ KINGS KADAVAR RETURN TO AUSTRALIA ⚡
There are few bands who've had more of an effect on the course of classic heavy retro rock this decade than Germany's KADAVAR, having never sounded so much in command of their music.
Arguably the hardest working band in European rock, Kadavar have established themselves quite simply in a different league form their retro-rock labelled peers, smashing out large capacity international tours and festivals (Hellfest/Psycho Las Vegas/Download/Wacken) en masse and landing German and US chart positions for a host of album releases. Latest album release For the Dead Travel Fast (Nuclear Blast), reignites new depths and heights alike on this their fifth and darkest full-length.
Highly regarded as one of the most explosive heavy psych live experiences on the planet, Kadavar return to Australian and New Zealand shores in March/April 2020 for Beats Cartel on the back of a Mojo Burning Festival appearance and new album.
"For the Dead Travels Fast sets new standards" - METAL HAMMER
Get ready to witness something special... Kadavar are coming. Appearing at The Basement in Canberra on Wednesday April 01 $40/50.
All tour tix and info at
www.beatscartel.com.
National supports will be announced soon. For more information or interview request, please contact
bookings@beatscartel.com
.
Proudly presented by Beats Cartel, Dead Mans Fingers Spiced Rum and HEAVY Magazine with help from Maric Media, The Obelisk and Valhalla Touring.