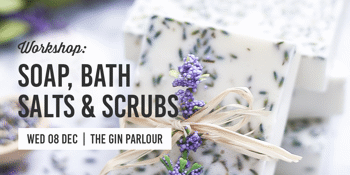 Holistic Psychology presents...
Soap, Bath Salts & Scrubs Workshop
Miami Marketta, Gold Coast (Miami, QLD)
Wednesday, 8 December 2021 6:00 pm
Treat yourself to a night of beautiful smells and visual sensations and make your own DIY soap and body scrubs and bath salts with Holistic Psychology at Miami Marketta.

DIY delicious soap
Have you ever used goat's milk soap? It has a beautiful smooth texture and making your own soap removes some of the added chemicals!

To begin with, you will learn how to make your very own soap using the melt and pour method - the easy way to make handmade soap. With choices of beautiful rose and bar moulds, you will have a choice of beautiful petals and herbs to design stunning and healthy soap creations.

Believe us when we say you will never want to buy a bar of soap from the store again!

DIY scrubs and bath salts
Next, learn how to make exfoliating scrubs and bath salts to get your skin summer smooth. During the workshop, you will make body scrubs and bath salts, utilising a variety of natural moisturising oils, natural additives and fragrant essential oils.
You can choose from a range of materials to create an exfoliating, relaxing or revitalising scrub.

Mix and match pretty petals and herbs with essential oils to make concoctions that look as beautiful as they smell. Your gorgeous soap scrubs and bath salts will make the perfect gift ideas or why not enjoy these amazing creations yourself!
Knowledge required
This is a beginners class, so no prior experience is needed. Just turn up and be ready to have fun!
What you'll get
·
Two small jars of your scrub/bathsalts.
·
Three melt and pour soaps.
·
A workbook.