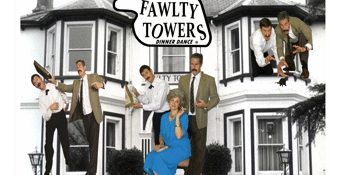 Fawlty Towers Show
Plaza Tavern (Hoppers Crossing, VIC)
Friday, 18 October 2019 7:00 pm
With constant sold out shows around the country, The Fawlty Towers Dinner Dance is here to engage your clients with an interactive dinner service of comic mishaps, mayhem & mischief as Basil, Sybil & Manuel (the language lacking waiter) go about creating an unforgettable interactive dining experience for their guests. Fawlty style of course!
If anything can go wrong then rest assured it probably will! Enjoy your experience even further as Manuel entices you to the dance floor with the fabulous sounds of The Baby Boomers Duo presenting classic hits from the 50's, 60's 70's & 80's.
Remember . . . . "It's not our Fawlty if you don't have a sensational night out!"
• You are greeted at the door by Sybil who tries hard all night to keep order and just a little bit of sophistication to the proceedings.
• You are fussed over and ordered about by Basil as he tries to run a profitable restaurant.
• You have everything go wrong that possibly can as the language challenged waiter Manuel mucks up all the orders and insists on searching for his pet rat.
• You have The Baby Boomers Duo on stage to perform a 75 minute set of 50's,60's,70's & 80's music whilst Basil, Sybil & Manuel encourage your guests to the dance floor.
and ..... your guests enjoy one of the funniest, craziest nights they've ever had!!
Our team have put together a highly professional cast of actors / comedians & musicians to create The Fawlty Towers Dinner Dance. They have worked at many Venues and Private Functions over the past few years to rave reviews and rapturous applause. The actors look and act just like the real thing and the audience interact with the characters encouraging them in their mad antics. There is never a dull moment, and you never know what is going to happen next as the Fawlty Towers Dinner Dance takes over your venue! Don't blame us - - - - - It's not our Fawlty!
https://www.facebook.com/fawltytowersdinnerdance/