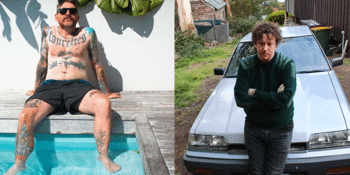 The Junk Bar presents
Ben Salter & Dominic Hoey
with special guests
The Junk Bar's Skukum Lounge (Ashgrove, QLD)
Thursday, 19 March 2020 6:30 PM
It is the year of our lord 2012. Jaded wannabe rock star now jaded solo performer Ben Salter & recovering rap star cum stand up poet slash budding novelist Dominic Hoey first meet in the tiny fishing village of Skagaströnd, in the wind-swept wilds of northern Iceland. Dominic is writing a book about growing up in a shitty Auckland suburb (later published as his debut novel, Iceland), while Salter is three months into a five month European songwriting grant, writing and performing with musicians and fellow derros across the continent. Bereft of companionship and half mad with homesickness and culture shock, they quickly bond over the high price of Icelandic beer, The Velvet Underground, and Dominic's bad tattoos.
Fate has brought them together and the two men fall deeply in love against the backdrop of the endless Icelandic sky; collaborating, laughing, raiding the service station for .5% beer. They ascend to the summit of the local mountain Spakonufell where legend has it the priestess Thordis has hidden a fabulous treasure. And while they find no gold, they are rich with the bounty of each others friendship.
Salter & Hoey at the 4th of July celebrations, American Embassy Reykjavik, 4th July 2012
That first flush of new love has long since faded, and while the two men have grown apart, their trans-Tasman affair lives on, from sketchy airbnbs in Berlin to the pubs and share houses of Brunswick, the bright lights of the Queensland Poetry Festival in Brisbane, and a string of tours and performances together across the span of Aotearoa, Salter complaining about the standard of accommodation every step of the way.
Now at last Hoey & Salter's heckers schedules have aligned and they are embarking on a tour of Terra Australis. Come March they'll traverse Australia's highways and byways, regaling audiences with music and poetry. Fellow musicians and poets will join them along the way for an evening filled with tall tales, love poems and songs about outer space: a dive bar cabaret for the end of time.
Hoey & Salter would like to acknowledge that this tour takes place on stolen land. Sovereignty was never ceded. They acknowledge the traditional owners, the Australian aboriginal people, and all the elders past, present & emerging.
For more information: