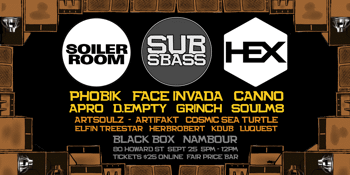 SUS SBASS | SOILER ROOM | HEX SOUND SYSTEM
Black Box Theatre - The Old Ambulance Station (Nambour, QLD)
Saturday, 25 September 2021 5:00 pm
Welcome back to another Soiler Room session showcasing some of SEQ's finest underground broken beat, bass heavy selectors, backed up by the ever evolving HEX Sound System.

This is a fully inclusive, fully immersive experience where the Sound System, the DJs and our visual artists take centre stage for a night of artistic creativity, dance floor vibes and community spirit.

As always, we are extremely excited to present some of SEQ's finest hidden talent, prooducers and selectros alike!
Apro
Grinch
D.Empty
SoulM8
Face Invada
Phobik
Canno

Artsoulz will be on stage with their easels showcasing what they do best - unique and insiring art!

Artifakt
Cosmic Sea Turtle
Elfin Treestar
HerbRobert
KDub
Luquest
Fair price bar all night supporting the not-for-profit Old Ambo Station art and culture centre.
********IMPORTANT TICKET INFO*********

Tickets are limited based on restricted covid capacity. If capacity restrictions are not in place on Sept 20th then full ticket allocation will be released.
In the event of last minute capacity restrictions then original ticket holders will be honoured. Excess ticket holders will be refunded.
In the event of a lockdown event cancellation, we will run the event on the next available Saturday.
Basically, if you want guaranteed entry then get your ticket early to avoid dissapointment. These nights sell out every time and we thank you for your contimued support in these tricky times.

Come gather round the sound!