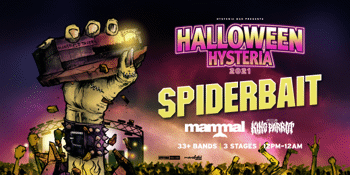 Hysteria Mag presents
Halloween Hysteria 2021
with special guests Spiderbait, Mammal, Clowns, King Parrot, Gravemind, Redhook, Stepson, Concrete Surfers, Fangz, These New South Whales + 24 more!
Mansfield Tavern (Mansfield, QLD)
Saturday, 23 October 2021 12:00 PM
THE CREATURE RETURNS FROM THE UNDEAD!

HALLOWEEN HYSTERIA 2021

34 Bands | 3 Stages | 12pm–12am

Mansfield Tavern, QLD, Saturday 23rd October

SPIDERBAIT
MAMMAL, CLOWNS, KING PARROT

In alphabetical order
APATE / BLACK RHENO / CAPTIVES / CONCRETE SURFERS / DAYS LIKE THESE
DISKUST / FANGZ / FLAMING WREKAGE / FLANGIPANIS
FROM CRISIS TO COLLAPSE / GRAVEMIND / HAMMERS
HARLOTT / JJ SPEEDBALL/ LUNE / MASSIC / OBSERVIST / REDHOOK / SMOKING MARTHA / SOMETHING SOMETHING EXPLOSION / STEPSON / THE ASCENDED
THE LAST MARTYR / THESE NEW SOUTH WHALES
TO OCTAVIA / TOTAL PACE / TO THE GRAVE / WE SET SIGNALS / WILDHEART / XENOBIOTIC

The creature returns … from the undead! Halloween Hysteria 2021 will be smashing it out of this dimension with a massive, incredible, stupendous, and SPOOKY star-studded line-up at Mansfield Tavern on Saturday 23rd of October!

This is yet another convocation of Australia's best and LOUDEST punk, metal, and alt-rock bands, thrashing all day and all night over three huge indoor and outdoor stages.

The third incarnation rising from the murk sees Oz-rock superstars SPIDERBAIT headlining the Halloween party, plus bright shining alt-metal stalwarts MAMMAL, plus insano-thrash devil-beasts KING PARROT, making their second appearance at the festival.

In addition to these huge headliners, Halloween Hysteria features 29 bands spanning every heavy genre including modern metal (Flaming Wrekage, From Crisis To Collapse), 'core of every hardness and deathness (Stepson, DisKust, Gravemind, Captives), stoner jams (Black Rheno, Hammers), female-fronted rock (Smoking Martha, RedHook), old school thrash (Harlott), tripped out punk rock (Something Something Explosion, These New South Whales), Brizzy supergroups (Total Pace), and raucous punk (Flangipanis, Fangz, We Set Signals). There's something to satisfy every fan of heavy music at Halloween Hysteria '21!

As always, you can get your horror on by dressing up as your favourite creature feature— with prizes for the scariest and gnarliest cosplay among us! (Or are they…!)

DO NOT miss your opportunity to mosh it up with the cream of Australia's punk, metal, and rock talent at Brisbane's spiritual home of rock, the Mansfield Tavern! It's guaranteed to send a shiver down your spine and your head whipping back and forth in excitement!

Tickets go on sale Thursday 27th May. Be quick—they won't last long!

Get your scare on and we'll see you again in the spooky pit!