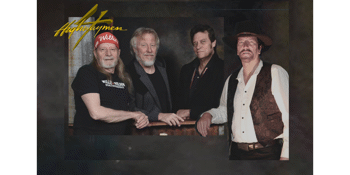 The Pub Group presents
4 Highwaymen
Longyard Hotel (Tamworth, NSW)
Monday, 20 January 2020 8:00 PM
4 HIGHWAYMEN For all time, without question, they are regarded individually as four of the greatest country music icons of all time - Willie Nelson, Waylon Jennings, Johnny Cash & Kris Kristofferson.
Together they were legendary, world-wide, as "The Highwaymen". Australian's own "4 Highwaymen" - Bruce McCumstie, Alan Bowles & Bryen Willems, along with new recruit Chris Callaghan, have joined together to recreate the memories of the "The Highwaymen" tours of Australia.
Launched to great acclaim at the 2011 Tamworth Country Music Festival this group has returned to sell-out performances at the Longyard every year since. 2019 was a sad year for all performers as their great mate and entertainer Rob Wilson, who always gave a first class portrayal of "Waylon" ,passed away just before the festival after a short battle with cancer.
At the 2020 Tamworth Festival 4 Highwaymen will be joined by new recruit Chris Callaghan, and this will be their tenth consecutive year entertaining fans with the songs and stories of the great "Highwaymen". All four are seasoned country entertainers and present a memorable performance with patrons acclaiming "the best thing since the real Highwaymen came to town" and "I saw The Highwaymen live and this show is every bit as good as they were live" and "so close to the real thing".