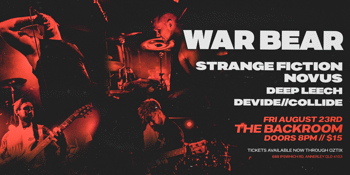 WARBEAR - "I Tried"
The Back Room (Annerley, QLD)
Friday, 23 August 2019 8:00 PM
WARBEAR
Strange Fiction
Novus
Deep leech
Devide//Collide


WARBEAR was established in 2018, made up of members of bands such as Ashes of December, As Paradise Falls, Turns to Ashes and Take Us To Vegas.

The band released their Self Titled EP in 2018 and have been striving to provide low budget B Grade heavy music to the masses ever since.

Now celebrating the release of their newest Medio-core single "I Tried" a blend of vanilla metalcore with some southern spice.

You won't find huge egos or even high self esteem in these boys. What you will find though is a band that relish in self depreciating humour and a highly engaging and entertaining live show.

Coming together with some of the regions finest up and coming bands STRANGE FICTION, NOVUS, DEEP LEECH and DEVIDE//COLLIDE to make a mess of things Friday the 23rd of August at The BACKROOM.