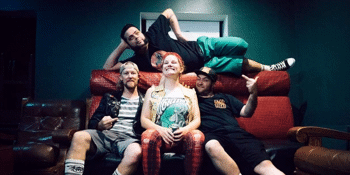 Flangipanis
The Leftards & MOOT
The Hamilton Station Hotel (Islington, NSW)
Friday, 4 June 2021 8:00 PM
Flangipanis are a male-backed 4 piece pop punk band from Brisbane. Their songs are about drinking, fucking up, getting fucked up, and sometimes fucking.
They're not shit, and they're not scared to have some fucking fun. Come party!

The Leftards are no strangers to Newcastle, this unique supergroup made up of the least-good members of four unpopular Wollongong bands is now into their fourth fabulous year of politico-mayhem. The new lineup and EP ARTIFUCT has seen the band move into overdrive with a manic stage show unlike any other. Not to be missed!

MOOT have sharp lyrics on uptempo old school punk rock riffs, a deadly sense of humour and on point rage at the machinations of society. These guys play with wild irreverence but are as tight as old pros. Back in Newcastle due to popular demand!