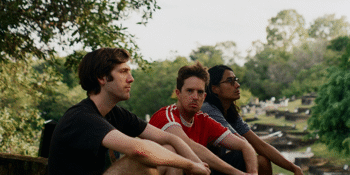 These Guy 'A Long- Winded Story' Album Launch
Full Power Happy Hour
The Junk Bar's Skukum Lounge (Ashgrove, QLD)
Saturday, 23 October 2021 7:00 pm
There comes a point in life when you realise you don't want to keep growing. You've wandered far enough – it's time to come home again, metaphorically speaking, or maybe even literally. You remind yourself of what you have, and wonder if that is simply enough.
This is the central theme to These Guy's new record, A Long-Winded Story. It's the Saturn return of the band's prolific output, where the stars align in their maturity as songwriters, and where looking to the past stimulates a sense of hope for the future.
Over several releases, These Guy have gradually fine-tuned a vibrant, idiosyncratic sound. Inspired by the uncompromising ethos of DIY pioneers like Arthur Russell and The Cleaners from Venus, they've forged an unconventional path for themselves, which has seen their sound evolve relatively unchecked, like some strange, unclassifiable species of pop music fungus. A Long-Winded Story stands as perhaps the most complete encapsulation of their vision yet, where vivid sonic imagery assumes a central role in tying together an evocative semi-autobiographical song cycle.
To celebrate the release, These Guy will be playing a live translation of A Long-Winded Story at Junk Bar on Saturday, 23rd October. Joining them will be local jangle-pop five-piece Full Power Happy Hour, whose debut 2020 self-titled LP earned them instant adoration either side of the Brisbane Swamp.
Be there for the launch of These Guy's A Long-Winded Story – out now through Magnetic Dreams.

These Guy on
Instagram
|
Facebook
|
YouTube