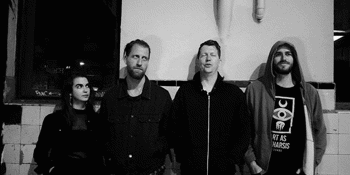 Cool Perth Nights, Rosemount Hotel & Bolt Gun
Bolt Gun BEGOTTEN live launch
Tangled Thoughts of Leaving, Skullcave, DJ Ai-Ling
Rosemount Hotel (North Perth, WA)
Friday, 28 August 2020 8:00 pm
Friday August 28, Bolt Gun launch their album Begotten live at Rosemount Hotel, supported by Tangled Thoughts of Leaving and Skullcave plus DJ Ai-Ling. Yes, this is a MASSIVE EVENT.
Through lengthy channels of sound, Begotten has a similar flavour of misery to that of Planning for Burial and the cinematic scores of Hans Zimmer. The band oft find inspiration from acts such as SWANS, Einstuerzende Neubauten and early 90s Scandinavian black metal bands, which manifests in both drawn-out ambience and violent instrumental segments.

"There are new types of ambient foundations, live tracked noise, and modern classical elements that set the tone and texture of the album," begins guitarist Jon Vayla. "It feels quite different to our past albums but Begotten builds on the same ideas and processes that we've been exploring since our first album, Exit as a Swarm."

The core elements are there in all Bolt Gun music. Ambient and noise as the foundations; the use of repetition; and the building of heavy guitar structures on top of these. All our music has various nods to bands and composers that we love but without the aim of writing 'a song'. An exploration of what can be experienced in 'sound' is perhaps a better way to think about Bolt Gun music. Bands like Swans and the Necks seem to have a similar approach, so we make no claims to an original process, but it's one that appeals to us the most and drove the writing of Begotten."

Restrictions due to the Covid-19 pandemic have, until recently, resulted in no live performances since the release of "Begotten". Fortunately with restrictions being eased in Perth, we are happy to announce a return to the live stage, bringing with us some very special guests.