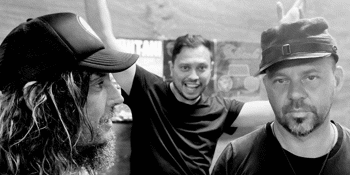 GT Music
Tshitaki, Vagabones, Dogtags & Hairy Mother of God (Arvo Show)
Vinnies Dive (Southport, QLD)
Saturday, 29 May 2021 12:00 pm
SATURDAY MAY 29TH | DOORS OPEN MIDDAY
Bands from 12:30PM

Barrelling out of the rock n' roll crucible of Sydney's Northern Beaches, Tshitaki are an unrelenting assault of choppy guitars offering up a groundswell of in your face, turbo charged surf rock n' roll.
Keeping it to the bare essentials as a three piece, Tshitaki distil fuzz guitars over a tightly wound rhythm section creating a searing assault on your more genteel senses, divining their own unique brand of musical alchemy.
What a mad old year it has been. Tshitaki released their long awaited album World Keep Turning on the 27 March 2020… it was all scheduled for then but in the meantime something happened.
We've all had a bloody tough year and nothing like a pandemic to get in the way of rock n' roll plans. That said, Tshitaki are made of stronger stuff and they will finally get to tour "WKT' the album.
These show's have been a year in the making!! Tshitaki are headed to South East QLD as they finally get to play their 'World Keeps Turning' album live!
Lovers of live music have been sorely missing the soothing tones of Tshitaki's psych/punk take on rock and roll and for your benefit they are back and ready to blast your ear drums. Pandemic be damned.
With support from Vagabones, Dogtags and Hairy Mother of God.

SET TIMES:
12.30pm: Hairy Mother of God
1.30pm: Dogtags
2.30pm: Vagabones
3.30pm: Tshitaki

We would like to reassure you that Vinnies Dive is a COVID Safe venue, and will be practicing COVID responsible rock and roll. We will be accepting walk-ins on a first come, first serve basis, so get in early to avoid disappointment!