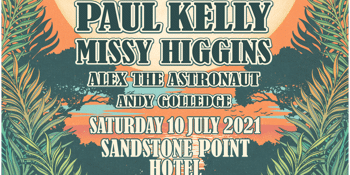 Empire Touring presents
Paul Kelly & Missy Higgins
with Alex The Astronaut & Andy Golledge
Sandstone Point Hotel (Sandstone Point, QLD)
Saturday, 10 July 2021 3:00 PM
Final tickets on sale here now >>>> BUY NOW
Paul Kelly and Missy Higgins
,
two of Australia's most cherished and iconic artists have teamed up for a special one off show at the Sandstone Point Hotel on Bribie Island in Queensland this July.
Joining them will be
Alex The Astronaut
and
Andy Golledge
.
All four artists are expert storytellers, from heart-on-the-sleeve songs about love and loss to thought provoking tomes about our nations storied history, you are in for one magical night of classics, soon to be classics and maybe the odd collaboration!
Saturday, July 10
Sandstone Point Hotel, Bribie Island QLD