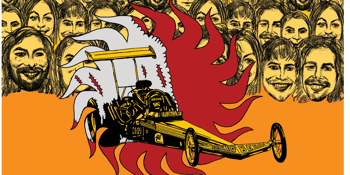 The Eastern presents
Baked Beans 'Avalon Speedway' Tour
Eggy & Electric Toothbrush
The Eastern (Ballarat, VIC)
Friday, 23 August 2019 8:00 PM
Baked Beans
are back and they're bouncin'! After the sold out release of their 2018 debut album
Babble
Beans are gearing up to launch their new single '
Avalon Speedway'
.
A charging anthemic belter with all the trimmings that Beans fans can't get enough of.
A sign of things to come; Avalon' races between deep purple heavy rock and a wheel spinning hammond/guitar hook, that will keep your head nodding long after you hear it.
Written by frontman Matt Blach (
The Murlocs
), Avalon speedway is a wry grin at the type of folks who like to try and race you at the lights, named after the "
place for pace
" itself, just outside the band's home city of Geelong.
With their sophomore record due out later in the year through
Flightless Records
, its time to cop a taste of Baked Beans!
"Baked Beans are the freshest, hottest, sauciest band goin' around!" - Ice T, 2019 (actually)
With Special Guests: Electric Toothbrush and Eggy