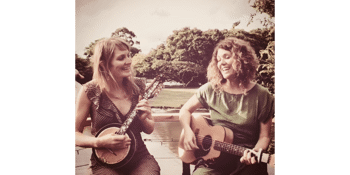 The Junk Bar Presents
FRASER AND STONE w/ Sian Evans
The Junk Bar's Skukum Lounge (Ashgrove, QLD)
Thursday, 22 August 2019 7:00 PM
Fraser & Stone - A Brief History

Drift away to the unique, melodic sounds of Fraser & Stone, one of Australia's most aspiring folk groups. Melissa Fraser and Raychel Stone have come together to form this vibrant, acoustic group that will leave your hearts stirred, your ears dancing and your toes tapping. Fraser & Stone, founded in 2017 by the duo, have since left audiences captivated by their malleable harmonies and a sentiment that enchants both the world-weary and the broken-hearted. Their shows, dusted in farcical banter, bring together a collection of original folk and country tunes featuring old-timey arrangements and soul-stirring harmonies that have heralded them as an act to be treasured.

Fraser and Stone is the birth child of two of Australia's prominent folk singers, Melissa Fraser and Raychel Stone. Since the groups formation in 2017, they have shared the stage with Australian legends by the likes of Archie Roach, Liz Stringer, Jackie Marshall, Black Rabbit George and Chris Pickering among others. Hailing from Brisbane, QLD, Melissa Fraser has been gracing stages both at home and abroad for almost two decades. Much of that time has seen Melissa injecting her unforgettable vocals and brandishing her bass in the back-line. Frasers country-oriented solo work is infused with her signature pop stylings, melodic hooks and harmonies that are instantly enjoyed by lovers of music young and old. From the heart of the Sunshine Coast, Raychel Stones wild-hearted acoustic folk, touched with country burs, impart her hard-won wisdoms through song. With lyrical depth and a raw honesty that evoke an exquisite stillness between its rhythm and breath, Stone uplifts and charms her audiences with a captivating beauty and stage presence. Fraser and Stone's live performance bring together a blend of farcical banter with soul stirring musical arrangements woven intricately amongst their stand out harmonies. Laced with old-timey fiddle, upright bass, mandolin and intricate acoustic guitar, their unique folk country captivates and charms audiences from all walks of life, the young and the young at heart.

Supported by Sian Evans of The Long Johns fame, one of those artists that sits a solid solo show, vocally, instrumentally, is authentic in personality and mood and always has a bench mark of greatness with her creative endeavours.