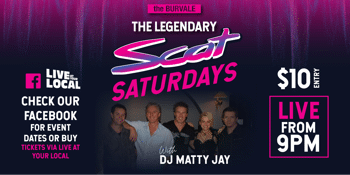 Live at Your Local
Scat
DJ Matty
Burvale Hotel (Nunawading, VIC)
Saturday, 30 October 2021 9:00 pm
SCAT & DJ MATTY ARE BACK AT BURVALE
Loads of Drinks specials,
Dress to impress,
One of the most recognisable names from the 80's are back again featuring all the classic hits from the 70's and 80's, great musicianship, huge vocals and harmonies with a line-up that features members from such acts as the "Ian Moss Band", "Zep Boys", "Hype" and "Flame Trees". From the biggest B & S Balls in Victoria and New South Wales to the Corporate stage in Melbourne, Scat covered all aspects of the industry for 14 years from 1982 to 1996. Performing at the largest profile hotels across Melbourne 5 nights a week to Grand Final dinners at the Rialto, Scat constantly delivered high quality performances to audiences from 18 years to 60 years old.