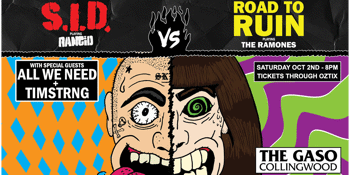 Rancid Vs Ramones
Road To Ruin, S*I*D*, All We Need and TIMSTRNG
Gasometer Bandroom (Collingwood, VIC)
Saturday, 2 October 2021 8:00 pm
Feelin' lucky punk?! Yes you are! Fancy a night of classic punk tunes featuring the songs of two of the most influential punk bands of all time! Well...you got it!

ROAD TO RUIN pay homage to the pioneers of punk, the originators; THE RAMONES! Road to Ruin bring the music of punk rock legends, The Ramones, to life in a fast paced, frenetic live show for all lovers of great music. From Blitzkrieg Bop to Pet Cemetery, Road to Ruin blast out the hits of the Fast Four, guaranteeing to get the cretins hopping and to give those pinheads a healthy dose of shock treatment. Hey, ho, let's go and catch Road to Ruin as they beat on the brat!

Road to Ruin features former members of The Go Set, The Rebelles, Luke Yeoward and the Halfway and Boob in a Test Tube.

S*I*D bring the music of second wave punk revivalists, RANCID, to life in a balls to the wall, full on punk showdown. Out come the wolves when this indestructible band of delinquents hits the stage. Life won't wait, so let's go with S*I*D and there bag full of Rancid hits!

The S*I*D line up features members Admiral Ackbar's Dishonourable Discharge, The Suicide Tuesday's, Jerk Beast, SNOWFLAKE, The Murderballs) and Jay Wars and the Howard Youth

To kick off the night, TIMSTRNG and All We Need will rev you up.

Sooooo much punk... so much fun at this not to be missed battle of the giants of punk! Bring it on!