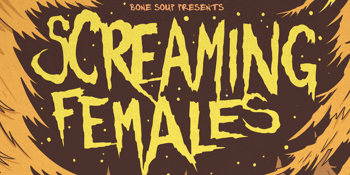 Bone Soup presents
Screaming Females (USA)
with special guests TBA!
The Tote - Band Room (Collingwood, VIC)
Thursday, 23 May 2019 8:00 pm
New Jersey power trio Screaming Females are coming back to Australia + New Zealand on the back of their latest album All At Once**

Lauded as one of the most hard working and viciously independent punk bands in North America and having played over 1000 shows over 10 years in the northern hemisphere, Screaming Females decided it was about time they went down under and over to NZ as well!

Equal parts Dinosaur Jr and Sleater-Kinney, Screaming Females exude a frenetic energy with an almost frightening level of intensity which has seen them join stages alongside, Dinosaur Jr, Garbage, The Dead Weather to name a few.