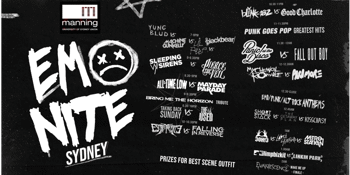 THE BAIT SHOP + IM NOT OKAY + MMRS
EMO NITE!
Manning Bar (University of Sydney, NSW)
Friday, 11 June 2021 7:00 pm
IT'S NOT JUST A PHASE!

Put on your favourite black skinny jeans and whip out your hair straightener, EMO NITE has hit Sydney.

Tell all your friends and Don't Miss out. Put on your finest eyeliner and get ready to scream your favourite emo tunes at the top of your lungs.

7 - 8 PM MGK VS BLACK BEAR VS YUNGBLOOD VS LIL PEEP
8 - 8.30 PM SLEEPING WITH SIRENS VS PIERCE THE VEIL
8.30 - 9 PM ALL TIME LOW VS MAYDAY PARADE
9 - 9.30 PM BRING ME THE HORIZON TRIBUTE
9.30 - 10 PM TAKING BACK SUNDAY VS THE USED
10 - 10.30 PM ESCAPE THE FATE VS FALLING IN REVERSE
10.30 - 11 PM BLINK 182 VS GOOD CHARLOTTE
11 - 11.30 PM PUNK GOES POP GREATEST HITS
11.30 - 12 AM PANIC AT THE DISCO VS FALLOUT BOY
12 - 12.30 AM MY CHEMICAL ROMANCE VS PARAMORE
12.30 - 2 AM EMO/PUNK/ALT ROCK ANTHEMS
12.45 AM AUSSIE BATTLE - SHORT STACK VS KISS CHASEY VS GETAWAY PLAN
1:00 AM 3O3 VS METRO STATION VS COBRA STARSHIP
1.30 AM LIMPBIZKIT VS LINKIN PARK
2:00 AM EVANESCENCE WAKE ME UP SING ALONG

Best Scene outfits wins PRIZES

18+ photo ID required.

Dress code: Rawr xD.

Management reserves the right to refuse entry.
No refunds.
Ticket holders must arrive before 10pm.