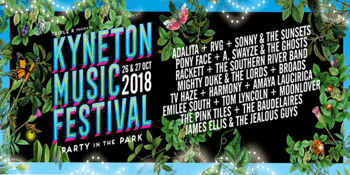 Kyneton Music Festival 2018
with special guests
Bluestone Theatre & St Pauls Park (, VIC)
Fri 26 - Sat 27 October 2018 7:30 pm
Bluestone Theatre & St Pauls Park
Friday 26th - Saturday 27th October 2018
Opening 7:30pm Friday and 11:30am Saturday
Adalita | Sonny & The Sunsets | RVG | Pony Face | A.Swayze and The Ghosts Rackett | The Southern River Band | Mighty Duke & The Lords | Broads | TV Haze Harmony | Amaya Laucirica | Emilee South | The Pink Tiles | The Baudelaires Tom Lyncoln | James Ellis & The Jealous Guys | Moonlover
The Macedon Ranges will come alive to the sounds of the Kyneton Music Festival this October when the annual party in the park kicks off in the gateway to the Goldfields.
A huge line-up for this year's festival has just been announced with Adalita, Sonny & The Sunsets, RVG, Pony Face, A.Swayze and The Ghosts, Rackett, The Southern River Band, Mighty Duke & The Lords, Broads, TV Haze, Harmony, Amaya Laucirica, Emilee South, The Pink Tiles, The Baudelaires, Tom Lyncoln, James Ellis & The Jealous Guys and Moonlover all set to smash out loving lyrics and musical moments across the picturesque township of Kyneton in the popular two day festival.
Taking place over two days on Friday 26 and Saturday 27 October, the annual Festival will immerse itself in the town with Kyneton's iconic Piper Street the centre of all the action.
Psych-pop outfit Moonlover, sixties garage pop sweetness The Pink Tiles, energetic raw garage rockers A.Swayze & the Ghosts and trop-pop party band Mighty Duke & The Lords will take to the Bluestone Theatre stage on Friday night.
On Saturday St Paul's Park on Piper Street will host the main stage, alongside favourite music venue Major Tom's next door, with local and national artists performing from midday into the evening.
Saturday's line up is all encompassing featuring honky tonk toe-tappin' two-step James Ellis & The Jealous Guys, the beautiful melodies and textured soundscapes of Amaya Laucirica, Melbourne indienoir crooners Broads, and Harmony, an ingenious juxtaposition of three souring female vocalists and an emotionally charged punk rock trio. With dynamite vocals and fierce guitar playing, Emilee South hollers throwback rock`n'roll with hints of rhythm and blues, while lo-fi high-fuzz rock band TV Haze will feature alongside the raw energy of Sydney's Rackett, complimented by a blistering live performance from WA's The Southern River Band.
Melbourne's hypnotic rock trio Pony Face meet beach-pop outfit Sonny & the Sunsets before the sensational RVG hit the stage. Finally, needing no introduction, Australian rock icon Adalita will play out the evening.
Feast on local culinary delights found along Piper Street and a fine selection of food trucks in St Paul's Park while enjoying the sounds of the Festival in the picturesque surrounds of the historic town.
Now in its seventh year, Kyneton Music Festival attracts local and metro music lovers to the scenic and serene Macedon Ranges region. Just an hour from Melbourne by train or car, Kyneton is renowned for its creative community nestled amongst the Macedon Ranges. A small festival in size and numbers but big in the artists it attracts.
Triple RRR presents the Kyneton Music Festival, taking place on Friday 26 and Saturday 27 October.

*Companion Cards accepted on the door.