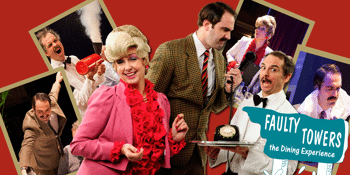 FAULTY TOWERS DINING EXPERIENCE
Castle Hill Tavern (Castle Hill, NSW)
Thursday, 22 August 2019 7:00 PM
FAULTY TOWERS DINING EXPERIENCE | Thursday 22nd August 2019
A night of guaranteed fun and laughter.
An experience you won't stop talking about! This 2-hour interactive performance revolves around a bubbly reception and three-course meal in the bourbon bar.
Enter the world of the snobbish and manic Basil, his domineering wife Sybil and their hopeless language-challenged waiter Manuel. Be one of the constantly bemused guests trying to make Manuel understand what you want. Everything that can go wrong will - in fact, this is best described as organised chaos!
Doors Open:
7pm
Show Begins:
7:30pm