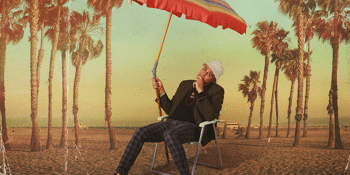 Code One presents..
Nicky Bomba - Late Show
Brass Monkey (Cronulla, NSW)
Saturday, 22 May 2021 8:30 pm
Enigmatic performer, producer and life long troubadour Nicky Bomba returns to the scene with his first solo release in 10 years. His reputation as a world-class performer has seen him grace stages from Istanbul to Tokyo, Hong Kong to Detroit and garnered him a weighty trove of accolades including four ARIA awards. Whether at the helm of the titanic Melbourne Ska Orchestra or slamming skins on the kit with John Butler, Nicky's magnetic connection with the audience is a testament to his spectacular creativity and joyously Bon vivant attitude. With new material and a whole new live show, Nicky is hitting the road to bring his electrified energy to the stage.
The first single "Malibu" from the new album "Food & Shelter" distils some classic sentiment and a tangy twist of Bomba's signature world-pop flare.