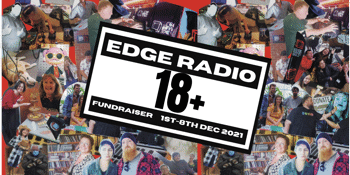 Edge Radio 18+ Fundraiser
EWAH and the Vision of Paradise + The Huskees + Morgan's Sandpit
Wednesday, 8 December 2021 7:00 pm
Edge Radio is all grown up and turning 18 years old!

To celebrate 18 years of Tassie voices on air we are holding a sexy dark and dirty fundraiser concert.

We have a top notch line up featuring: Morgan's Sandpit, The Huskees and EWAH and the Vision of Paradise.

All proceeds go towards Edge Radio - your local community not for profit right here in Hobart! Your ticket price will help us: Revamp and engage Tassie youth with new training options in 2022, engage more musicians in 2022 through concerts/ arts events and refresh how we market ourselves to get the good word of Edge out to even more communities. So come along, bring your friends and your grandma and help us celebrate our BDAY.