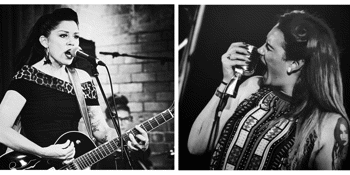 CODE ONE presents
Billie Page + Swamp Gully Howlers
Lefty's Music Hall (Brisbane, QLD)
Saturday, 30 May 2020 7:00 pm
Get ready for a rowdy night of loud and dirty Rock and Blues as
Billie Page
and her killer four-piece band teams up with the incredible
Swamp Gully Howlers
for a one night only, not to be missed live event at Lefty's Music Hall Saturday May 30!!
Gritty blues/ rock singer-songwriter
Billie Page
takes no prisoners and her high energy live performances bring a powerful explosion of vibing rock 'n' roll!
Originally established as 'Little Billie' in 2015, Billie Page has evolved from her traditional 50's Chicago blues and rockabilly roots by mixing it up with an original electric twist, to produce a high-energy blues, rock and rockabilly fusion! Billie continues to delve deeper into her new, heavier blues rock vibe with her upcoming new release 'Time & Time Again'… Stay tuned for release date announcements!
Billie performs live with her killer 4-piece band, featuring gritty blues lead guitar, punchy double bass, and hard-hitting drums. This no holes barred collective of next level musicians are undeniably electrifying and teamed with Billie's mesmerizing stage presence and relentlessly powerful, yet (at times) cripplingly vulnerable vocals, this band is a force to reckoned with! She has performed across Australia at a multitude of blues, rock, and mainstream festivals, and recently toured the Mediterranean in with Joe Bonamassa and Peter Frampton.
Swamp Gully Howlers
are a 5 piece blues rock band. Described as playing dirty, groovy, beer soaked blues rock. SGH are situated in Brisbane and have been on the scene since early 2012 formerly known as Bare White Knuckles. The band consists of Caity on vocals, James on guitar, Jayden on bass, Mike on drums and Trevor on harmonica.
SGH have a very unique sound and have played some big named festivals in Brisbane such as Dead Of winter and Mojo Burning. Check them out at Lefty's Music Hall in May!
Links:
Website:
https://www.billiepagemusic.com/
Facebook:
https://www.facebook.com/billiepagemusic
/
Www.facebook.com/swampgullyhowlers
YouTube:
Make You Bleed-
https://youtu.be/iFCrxcB1RuM
Live at Lefty's-
https://youtu.be/dhsPYu4zISA
Seal Your promises
https://youtu.be/fjeuJljngRk
Sea Of temperance:
https://youtu.be/6nBzXRfgUEw