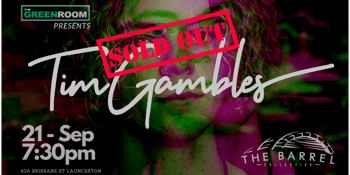 The Green Room
Tim Gambles 'Live & Intimate'
The Barrel Collective (Launceston , TAS)
Tuesday, 21 September 2021 7:30 pm
This is an extremely limited ticket event in a unique and cozy setting. The Green Room in conjuntion with The Barrel Collective is proud to present the first of the Live & Intimate sessions
being held each fortnight at The Barrel Collective 63a Brisbane St Launceston. Session No1 will be featuring the amazing voice of Tim Gambles.
Tim Gambles is a multi instrumentalist hailing from Launceston Tasmania. His vocal range and power mixed in with pure emotion and genuine connection with what he sings means the crowds go wild for him.
His cute-bad-boy image, and tats definitely bring to life more of what Gambles is about and his personality shines through when he performs.Tim's style blends pop and soft rock with deep emotions.
Think a blend of Michael Hutchence and Harry Styles and you're feeling the Tim Gambles vibe.