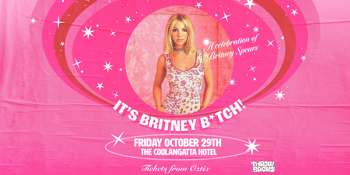 Tiny Minds Agency presents
IT'S BRITNEY B*TCH
Coolangatta Hotel (Coolangatta, Gold Coast, QLD)
Friday, 29 October 2021 8:00 PM
"GIMME GIMME MORE"
Throwbacks Proudly Presents: 'It's Britney B*tch'
This September we pay tribute to the O.G Pop Queen, a Superstar that soundtracked our childhoods, the one and only miss BRITNEY SPEARS!!!
GOLD COAST YOU'RE SO LUCKY! On Saturday September 11th, The Coolangatta Hotel becomes the House of Britney for one night only!!! Get Ready to hear all the hits (Gimme More, Toxic, Baby One More Time), fan favourites (Born To Make You Happy, Pretty Girls) and more 90's/00's pop nostalgia at IT'S BRITNEY B*TCH
GET READY FOR A NIGHT OF SURPRISES with our host, DJ and Special Guests TBA!
IT'S BRITNEY BITCH SOUNDS LIKE:
Backstreet Boys : Spice Girls : Jesse McCartney : The Black Eyed Peas : Kelly Clarkson : Destiny's Child : Gwen Stefani : S Club 7 : Missy Elliott : Sean Paul : The Veronicas : 5IVE : N*Sync : Bardot : TLC : Aqua : Shania Twain : Cher : Ricky Martin : Kylie Minogue : Lou Bega : Nelly Furtado : Fergie : Smashmouth : The Vengaboys : Shakira : Hanson : No Doubt : Craig David : Sugababes : Lady Gaga : Atomic Kitten : Kelis : P!nk : Ashanti : Mandy Moore : Robbie Williams : Christina Aguilera : Beyonce : Rihanna : Justin Timberlake : Mya : Will Smith : Jennifer Lopez : Ja Rule : Avril Lavigne : Sophie Ellis-Bextor : Metro Station : t.A.T.u : Jessica Simpson : Shaggy : Vanessa Amorosi : Jagged Edge : Nelly : Usher : Outkast