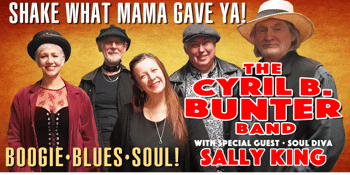 Code One presents
The Cyril B. Bunter Band with Sally King - EARLY SHOW
+ Special Guests SOUL DIVA
Brass Monkey (Cronulla, NSW)
Saturday, 9 January 2021 5:30 pm
We are abiding by all COVID 19 Restrictions and Protocols so anyone displaying signs of illness will not be permitted entry.

All Shows Are 18+ - Doors Open 7pm
Venue contact - brassmonkeycronulla@gmail.com
..
After a way-too-long spell between drinks, the mighty Bunters, Sydney's legendary exponents of The Real Good Boogie, return to one of their favourite venues to once again houserock the Shire in an all-killer-no-filler show featuring the fine vocals of their great friend, Soul Sister and Blues Diva Sally King!

Boogie to the max, Blues up the wazoo, Soul to the yin yang, Funk and Swing till you lose your thang - join us for this one-off happening and shake what mama gave ya!