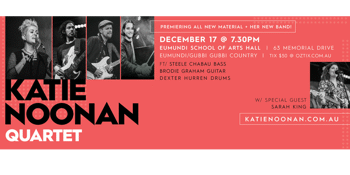 Imperial Hotel Presents
Katie Noonan Quartet
with special guest Sarah King
Eumundi School of Arts (Eumundi , QLD)
Friday, 17 December 2021 7:30 pm
Friday 17 December will see ARIA Award winning local artist KATIE NOONAN take to the stage with her quartet at Eumundi School of Arts. Premiering all new music and featuring son Dexter Hurren on drums, this will be a special night of music. The Katie Noonan Quartet will be supported by songstress Sarah King.
Fifteen years ago Katie Noonan recorded her debut solo album 'SKIN' in Sydney and Los Angeles while 4-8 months pregnant and holding the hand of an awesome one-year-old boy called Dexter. Fast forward to now and Katie's new band features her 16-year-old son Dexter on drums!
Joining the mum and son team is extraordinary bassist/producer Steele Chabau and guitar supremo Brodie Graham.
Over the last five years, since releasing her all originals crowded funded and critically acclaimed album 'Transmutant', Katie has been building up a new body of work for her next album, and alongside Steele, Brodie and Dexter, will be presenting the first live iterations of these new tunes at the Imperial Hotel on Friday 6 August.
You can check out Steele's work at www.steelechabau.com and you can follow Dexter's drumming at dexter_hurren on Instagram.
Over the past 20 years, five-time ARIA award-winning artist Katie Noonan has proven herself one of Australia's most hardworking, versatile and prolific artists. Named one of the greatest Australian singers of all time by the Herald Sun, Katie has produced 20 studio albums throughout her career, with seven times platinum record sales under her belt and 27 ARIA award nominations that span diverse genres.
Katie first came into the nation's view in 2002 while fronting indie rock band george – their debut album, the two-times platinum 'Polyserena', rolled in at number one in the ARIA charts. They ultimately won the ARIA award for Breakthrough Artist that same year.
Since then, Katie has performed by invitation for members of the Danish and British Royal families, and His Holiness the 13th Dalai Lama. She was an inaugural recipient of the prestigious Sidney Myer Creative Fellowship in 2011, an honour awarded to candidates that display outstanding talent and exceptional courage. In 2018, Katie took on the Commonwealth Games Opening and Closing ceremonies as Music Director, performing to more than a billion viewers worldwide.
Katie is a rare songwriter; equally at home leading a symphony orchestra as she is performing in a small jazz club, she has the ability to flourish in any genre – whether that's in gentle folk storytelling or in the grandiosity of an operatic performance. Katie has also collaborated with Australian electronic producers Flight Facilities on their acclaimed 2014 record 'Down To Earth', and in 2016 she joined Perth hip-hop artist Drapht on his track Raindrops.
About Sarah King
Sarah King is a songwriter and multi-instrumentalist. Her music conveys a dreamy, relaxed feeling, with hints of jazz and folk blossoming in sumptuous, smooth arrangements as her crystalline voice shines through. A classically trained muso, Sarah's songs highlight her love for the 'string quartet' medium, weaving original compositions around her delicate vocals. Introspective songs are draped with lush strings and melodic horns. Influenced by artists such as Kate Bush, Minnie Riperton and Ainslie Wills, Sarah's sweeping melodic lines reflect on moral undertones, taking audiences on a deep listening experience.
18+ event
Doors open at 7:30pm
To comply with Covid-safe practices, there is seating at this event. Seating is first come, first served. There is also plenty of standing room. Ticket holders' information will be collected for the purposes of Track & Tracing to comply with current restrictions. Providing your info is a condition of entry to this event.
Imperial Hotel Courtesy Bus
The Imperial Hotel's FREE courtesy bus operates Friday and Saturday nights from 5pm, travelling to Eumundi, Belli Park, Cooroy, Doonan, Eerwah Vale, North Arm, and Verrierdale. Phone Aaron on 0478 814 169 on the day to book.